Shortly before a global pandemic shut down borders, the legendary father/son guitar duo Paquito and Sandro Lorier from Alsace, France toured across the United States. During their time in St. Louis, the duo was introduced to LOOPRAT. The Loriers and LOOPRAT ended up playing together at a show, which led to a special, one night recording session where Sandro and the band tracked two songs.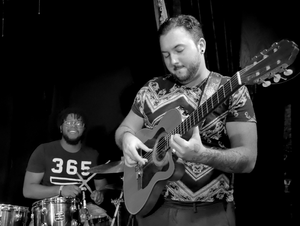 The onset of Covid in 2020 majorly altered plans and timelines for both LOOPRAT and the Loriers. Without any further delay, LOOPRAT is proud to present the first of two collaborations with Sandro Lorier, a masterful guitarist in styles of jazz Manouche, Rumba and Flamenco. Titled "Life in the Mud," after the chorus penned and sung by LOOPRAT's BlackBuddhaBear, the composition was brought to the table by Sandro with the name "Blues for St. Louis," as a homage to his time spent in a city that embraced him and his father Paquito's artistry with open arms.
     Now, the collaboration truly does have a place in history. In December 2022, the Missouri History Museum invited LOOPRAT to perform as part of their "St. Louis Sound" exhibit, a tribute of the lineage of St. Louis musicians who have left their mark in time. As part of a night dedicated to St. Louis Hip-Hop, LOOPRAT co-headlined with the legendary DJ G-Wiz as concert goers and history lovers alike rejoiced to the sounds of breakbeats and bars. This video was filmed the night of the event. Hopefully, what you see captures the essence of a night and of a sound that showcases the quality of music that St. Louis offers to the world stage.