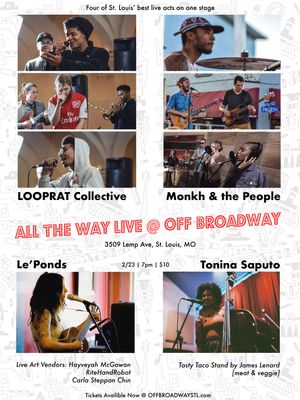 The first LOOPRAT show of the new year is fast approaching. The collective returns to the stage Friday, February 23rd at Off Broadway STL with a show that truly serves as a premier event experience. In addition to an "All the Way Live" concert experience, there will be live art and booths by Haveah Mcgowin, Righthandrobot and Carla Steppan Chin in addition to professionally prepared street tacos on location.
Joining the crew on stage is Tonina Saputo, a consistent contributor and affiliated act fresh off her first performance at The Pageant. Adding to the empowered feminine aura of the night is LePonds. She was recently recognized by the Riverfront Times 2017's Heat which rated amongst the best Saint Louis albums of the year.
Rounding out the show is another full ensemble: Monkh and the people. The genre bending group mixes socially aware lyrics with Rock, Reggae, Blues and beyond.
Tickets are $10, there is $3 minor surcharge and anyone under 18 must be accompanied by an adult.