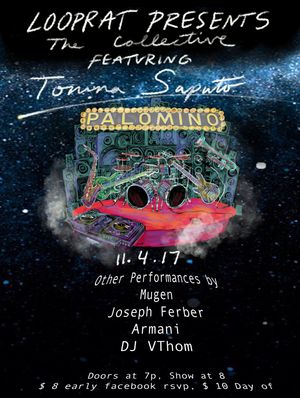 On Saturday, November 4th, LOOPRAT launches a new concert series at The Paolmino Lounge. The dynamic of the group is all about bring an eclectic collective together with a distinctive and unified taste for quality music. Our goal with this series is to merge the variety of our group to showcase the talent of individuals as well as the whole. To do so, we will present a new style of performance with seamless integration our group's varied dynamic.
As always, the collective will sustain its presence in the Saint Louis scene with crowd favorites from the 2016 albums How We Live and How Live? Additionally, we will perform band iterations of some new content from the recent Hip-Hop project In (<) No Time and unreleased material the group has been working on.
Beyond that, we want to put a spotlight on each and every part of the group that makes the whole so great. To begin, we will feature our long time collaborating partner Tonina Saputo, including her solo work and duets with our guitarist Joey Ferber who will also debut some original compositions. Additionally, MCs Armani and ZenMugen will merge some of there solo content into the live band set. Armani just released a new project titled What I Think and has already worked out band iterations for some original Hip-Hop beats. Mugen will be releasing his self-titled mixtape in November and, fittingly, will cap off this launch with a thorough collaboration with the band to bring extra life to the lyrical content.
To top it off, Dj vThom, member of The Basement Sound System DJ crew, will showcase his spinning  and scratching as a compliment to the live band feel and during intermission. You don't want to miss this unique concert experience. We are integrating all of our varied content into one set.
RSVP to the event page on Facebook for $2 off your entrance fee at the door!