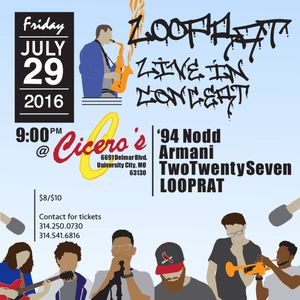 LOOPRAT
returns to the stage to host our own show in less than two weeks! The collective will come together for a live perfomance with the full band ensemble and perform unreleased tracks from the upcoming projects set to drop this summer. Tickets are on sale for just $8. Join us at Cicero's in the Delmar Loop for what is sure to be a great time.
Doors open at 8:30, show starts at 9pm.
Facebook Event Page:
Looprat with TwoTwentySeven, Armani, '94 Nodd at Cicero's
Three other acts will be joining to add to this night of music:
Armani is one of the single most talented MCs in the STL music scene. He showcased this with the release of his recent project,
(Al)most
. Be sure to catch his live performance so you can see just how much he has to offer before his inevitble rise to acclaim.
Instagram:
armani_abomb
'94 Nodd represents U-City's finest, the group known as Team Clutch. He is a gifted entertainer and combines his unique style with authentic Saint Louis culture.
Instagram:
bam_tc
TwoTwentySeven is a live Hip-Hop music collective also based out of Saint Louis. For this show, they will feature one of the vocal artists with a piece of their live ensemble. Paradise is putting the finishing touches on his first solo project which is set to come out later this year. He will be debuting some tracks at this performance. 
Instagram:
kingmidas_06
LOOPRAT will also be releasing some new music right around the time of the show! Be on the lookout for new merch and fresh digital releases coming soon...