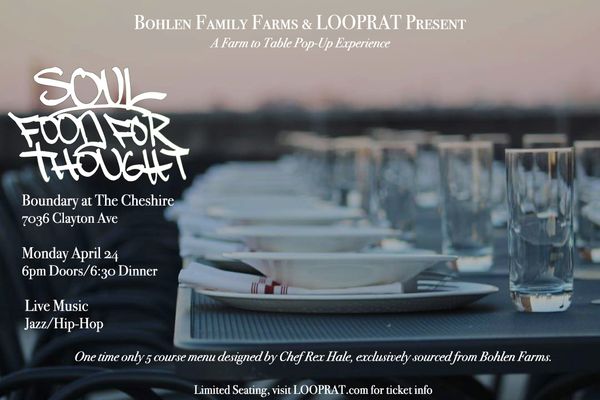 Bohlen Family Farm and LOOPRAT music present the 'Soul Food For Thought' pop-up dinner concert series. As a follow-up to the debut collaboration hosted last fall at Element, the food and musical entities are presenting a series of farm-to-table performance events hosted by several of St. Louis' premiere chefs and restaurants. The events will feature produce exclusively harvested and foraged from the Bohlen Family Farm of Perryville Missouri, as well as live music from the jazz/hip-hop collective, LOOPRAT. Over the last two years, both St. Louis organizations have experienced immense growth as they continue to nurture their relationship between food and music. From the stage to the soil, David Bohlen, co-owner of Bohlen Family Farm, and LOOPRAT musician, has been a key producer of nutritious content for people of St. Louis. Rooted firmly in the belief that diet is not simply what we eat, but what we consume, Bohlen Family Farms and LOOPRAT Music combine efforts to cultivate a healthy culture, aware of its environment. Each menu will be designed according to the season, event, and featured Chef. Vegetarian, Vegan, and Gluten-Free options will be available. Email dietary restrictions to bohlenfamilyfarms@gmail.com upon purchase of tickets. 

Tickets will include dinner and concert admission. Drinks will be sold separately. The first Pop-Up Dinner of the season will be hosted on April 24 at Boundary at The Cheshire featuring Chef Rex Hale. Dinner starts at 6:30pm. Following dates are to be announced.
Seating is limited. Purchase access to this exclusive fine dining experience through the online LOOPRAT store NOW. 

If you have any diet restrictions please email bohlenfamilyfarms@gmail.com to notify us.